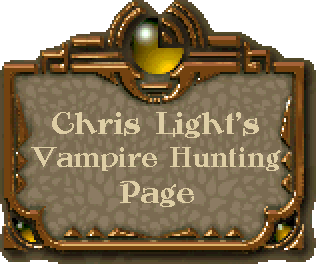 Introduction:
I don't know if these evil nasties are dangerous and violent, as I have never personally encountered one. Lucky me! But if they are indeed actually going around attacking and/or possibly killing people then I think we should all be aware of them and what they are up to. And at the very least, keep our eyes open for them and stop them, if possible.
That's what this page is here for.
This whole site is under heavy remodelling, as of Monday April 5th, 1999. Stay tuned...
I have been doing research and talking to a lot of different people: hunters, vampires, etc. and I've added an article that I put under Information. It's a work in progress, so I plan to update it whenever I can get more information and time to do it in. Right now, it's just basic overview of the different types of vampires.

| | |
| --- | --- |
| | CONTENTS: |

Vampire Hunter and Slayer Email Discussion List:

This is an email dicussion list for the discussion of vampires, vampire hunting and slaying and things of that nature. This isn't a list for role playing, Buffy, Blade, etc., so don't even bother to sign up; you will be removed.

<! -- End ListBot C->

View Vampire Hunter List Archive

Click on the graphic to vote for this
page as a Starting Point Hot Site.

---
---
Graphics compliments of:

---
---